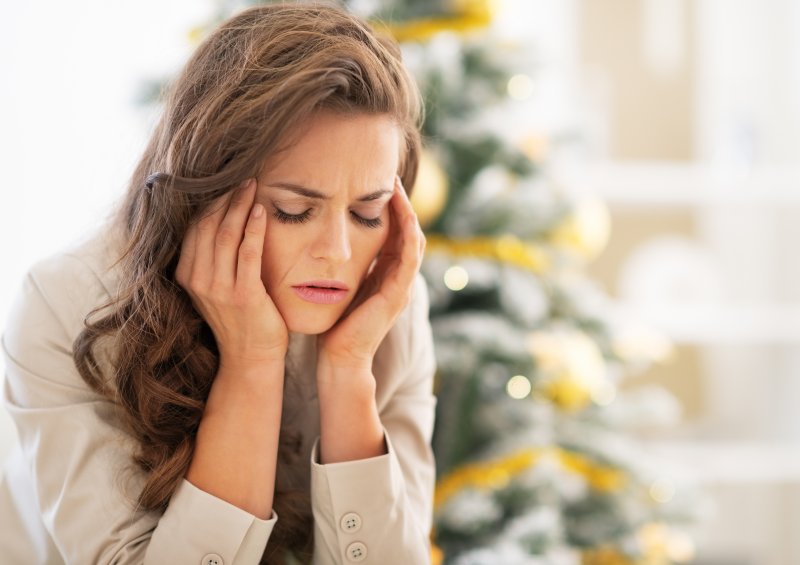 No matter how much you enjoy the holidays, it can still be a stressful time. Between shopping malls full of hurried and oftentimes, rude shoppers, to family members arguing over politics, you might find yourself rubbing your temples and scrambling to find 5 minutes to yourself. Stress has a unique way of amplifying problems that already exist within your body and mouth, even if you don't realize it. If you suffer from bruxism or chronic jaw pain, find out just how powerful and harmful stress can be on your oral health and how TMJ Therapy can help you achieve some much-deserved relief.
How Can Stress Impact Oral Health?
Stress is one of the body's greatest enemies. Not only can it lead to heart attacks, strokes, and other serious and damaging conditions, but it can also take a toll on your oral health, especially if you have bruxism or TMD (temporomandibular joint disorder). Combine large groups of family and friends, mounds of presents that put you close to your credit card limit, and cooking endless dishes to keep everyone happy (and full), and the stress of the holidays can have you begging for the new year to arrive.
In order to handle all of it, you might notice that you are grinding your teeth move, causing excessive wear and tear on your tooth enamel and growing pain in your jaw. Both bruxism and TMJ can be problematic for not just your teeth and jawbone but also your head, neck, and shoulders.
With each grind or clenching of your teeth or jaw, small stress fractures can occur on your smile, resulting in vertical cracks. If seen by a dentist, they could easily be mistaken for cavities; however, if you leave them untreated, the fractures can turn into actual cracks that require restorative treatment or one of many cosmetic services to restore your smile to its natural beauty.
How Can You Relieve Chronic Jaw Pain?
If you want to set yourself up for success this holiday season, it is strongly encouraged that you see your dentist for TMJ Therapy. Depending on your individual case, orthodontic treatment may be able to help realign a bite or teeth. Otherwise, an occlusal splint or occlusal adjustment can help.
By removing a small portion of the tooth enamel, this can improve your bite. It is also beneficial to wear a mouthguard while sleeping at night to protect your teeth from coming into contact with each other and relax your facial muscles to ease the symptoms of TMD.
Of course, finding ways to reduce your stress will also be beneficial in improving your situation. If you are able, try some of the following relaxation techniques:
Take long walks before bed
Enjoy a long, hot bath
Listen to soft music
Meditate
Don't let stress take over this holiday season. Take the time to see your dentist about treating your bruxism or TMJ and find a solution that works for you. By combining effective treatment with various relaxation techniques, you will be able to enjoy the time spent with family and friends while unwrapping gifts and eating delicious food!
About the Author
Dr. Richard Aguila earned his bachelor's degree in Chemistry, graduating Summa Cum Laude, as well as his Doctor of Dental Surgery degree from West Virginia University. He then went on to attend the Naval Medical Center San Diego to complete a hospital-based General Practice Residency. Dr. Aguila also possesses a master's degree in health sciences and a certificate in periodontics. At Jacksonville Dental Specialists, he and Dr. Matthew Nawrocki want to help you through this holiday season with ways you can combat bruxism or chronic jaw pain brought on by TMJ. With helpful tips to de-stress and available TMJ Therapy, you can finally begin to enjoy the season with friends and family. To learn more, contact us at (904) 683-4781.