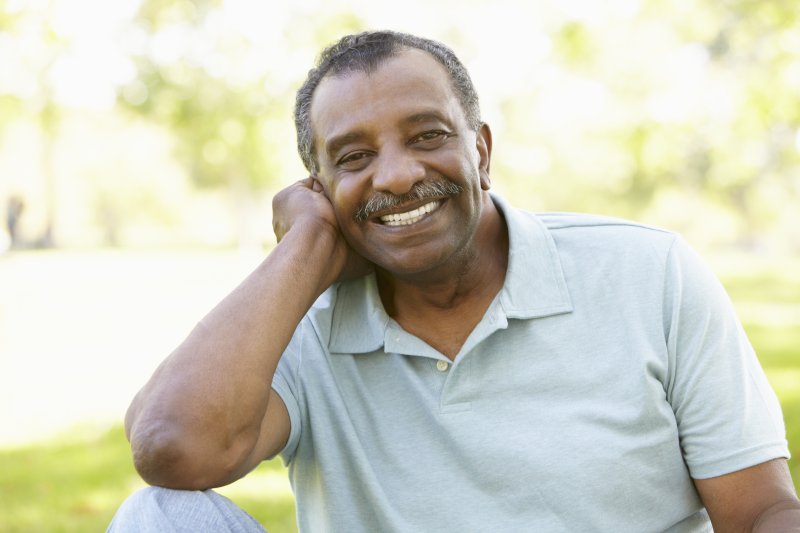 November is National Diabetes Month, which means, it's time to consider your well-being and make sure you're eating right, exercising, and taking the right steps to manage your blood sugar levels. One way to do this is to maintain good oral health. But what if you are showing signs of gum disease? If you're concerned that your gums are being negatively impacted by your diabetes, find out how the two are connected and what you can do to achieve better oral and overall health.
What is the Connection Between Gum Disease and Diabetes?
Three words can explain the link between gum disease (also known as periodontal disease) and diabetes: high blood sugar. If you're uncertain as to how this is possible, let's take a look.
Individuals who have diabetes have elevated blood sugar levels, which, if untreated or poorly managed, can weaken white blood cells. These are what the body needs in order to effectively fight off any bacterial infection that exists within the body, including the mouth.
Diabetes is also known to thicken blood vessels. When this happens, the body is unable to quickly process nutrients and waste from its tissues, including those found within the oral cavity (i.e. the gums). Once the body is weakened and can no longer fight off infections, this creates an opening for bacteria to invade the mouth and cause gum disease.
How Can You Achieve Improved Gum Health?
If you're looking for ways to improve your gum health and better manage your diabetes, the first step is to talk with your periodontist about periodontal therapy. With so many safe and effective treatment options available, it will be up to you and your dental professional to determine which one is right for you. Some of these treatments include:
Scaling and Root Planing: This requires removal of hardened plaque and tartar beneath the gum line as well as smoothing of the tooth root to encourage reattachment to the gum tissue.
Laser Therapy: Using a soft tissue laser,your periodontist can quickly and painlessly target damaged or infected gum tissue, removing minimal amounts of tissue in addition to plaque and tartar living below the gum line.
Gum Grafting: If gum disease is causing your oral tissue to recede, a gum graft can restore shape and structure to your smile.
In combination with periodontal therapy, it is important that you speak to your doctor about ways to better manage your diabetes. Some suggested methods include:
Monitoring your blood sugar levels.
Brushing your teeth twice a day for two minutes and flossing at least once a day to keep harmful bacteria out of your mouth.
Eat a well-balanced, nutritious diet, avoiding too much sugary and starchy foods.
Hydrate by drinking water and keeping your salivary glands working. This will prevent dry mouth and flush out any bacteria or food particles.
Maintain your regularly scheduled dental appointments and doctor's appointments to manage your diabetes.
Stop smoking.
There are ways you can live a better life with diabetes. By making sure your oral health is in optimal shape is just one way you can keep additional problems from developing within your body and your mouth. If you're unsure whether you might have gum disease or not, talk to your periodontist today and be checked for any signs or symptoms that may be present.
About the Author
Dr. Richard Aguila earned his bachelor's degree in Chemistry, graduating Summa Cum Laude, as well as his Doctor of Dental Surgery degree from West Virginia University. He then went on to attend the Naval Medical Center San Diego to complete a hospital-based General Practice Residency. Dr. Aguila also possesses a master's degree in health sciences and a certificate in periodontics. At Jacksonville Dental Specialists, he and Dr. Matthew Nawrocki understand the difficulties gum disease can pose to your oral and overall health, which is why we offer periodontal therapy to improve your oral tissue and reduce the likeliness for additional health problems. Find out how we can help you regain control of your oral health by contacting us at (904) 683-4781.