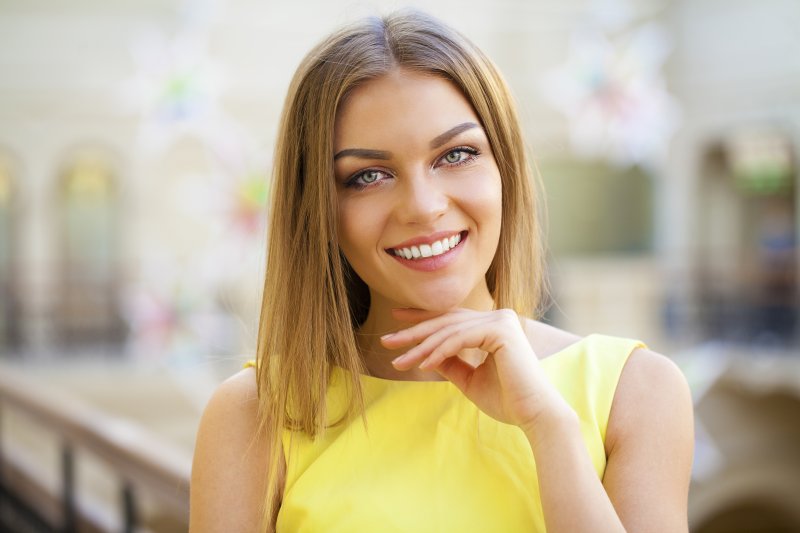 You might think a quick brushing and flossing in the morning is "good enough" for keeping decay and disease away, but the truth is, if you want to enjoy a beautiful, healthy smile that lasts a lifetime, you'll need to do more than speed through your morning routine. In fact, if that is the only time you're caring for your teeth and gums, you'll likely end up needing additional dental work at some point in your life. To celebrate National Dental Hygiene Month, try adopting these 4 at-home oral health tips to improve the health and look of your smile.
Brush the Right Way
The first thing to remember is if you've been using your toothbrush for more than 3 or 4 months, it's time to replace it. Once you have a clean and fresh brush to use, make sure you are using it each morning and night for a full two minutes. By turning the brush to a 45-degree angle and moving it in circular motions, you can clean both your teeth and gums. Don't forget to brush the backsides of your teeth and chewing surfaces as well.
Floss at Least Once a Day
Your toothbrush can't reach all areas of your teeth, which is why it is so important to floss. At least once a day, make sure you are flossing correctly to get in-between your teeth. This will remove harmful bacteria and any food particles that are stuck. But be careful not to floss too hard, as you can damage your teeth and gums.
Fluoride is Your Friend
While the water you rinse your mouth with likely has fluoride in it, it's also important to use fluoride toothpaste. Not only will this protect your teeth from tooth decay, but it will also strengthen the tooth enamel. Your dentist will offer fluoride treatments when you go in for your six-month visit, but during the months between appointments, you need to make sure you're doing all you can to keep your pearly whites strong and healthy.
Rinse Away the Leftovers
Using an antimicrobial mouthwash is a great way to wash away any left behind food particles or bacteria that your toothbrush and floss didn't remove. Think of it this way, if you "wash" your dishes with soap or a hand towel, but don't rinse them off, think of all the possible food and residue that will be left behind. The same goes for your mouth. By integrating mouthwash into your regular routine, you will eliminate the leftovers and leave your mouth feeling clean and refreshed.
Importance of Regular Checkups and Cleanings
Good at-home oral health goes hand-in-hand with regular dental checkups and cleanings. In order for your teeth and gums remain healthy, you must adhere to both. Regular dental visits (i.e. every six months) allow your dentist to perform a thorough examination to check for problems while your dental hygienist will remove harmful plaque and tartar build-up before giving your teeth a final polish.
Don't skip out on certain aspects of your dental hygiene routine. Take the time to care for your teeth and gums. Years from now when you're continuing to enjoy your natural, healthy smile, you'll be glad you did.
About the Author
If you're searching for a dental professional who takes pride in offering quality preventive care to his patients, then look no further than Dr. Matthew Nawrocki. Earning his Bachelor of Science degree in chemistry from the University of Florida, he went on to attend the University of Florida College of Dentistry, earning a Doctor of Dental Medicine degree. He and the team at Jacksonville Dental Specialists are ready to help you and your family achieve greater oral health by offering a wide range of services to meet your individual needs. To learn more, contact us at (904) 683-4781.