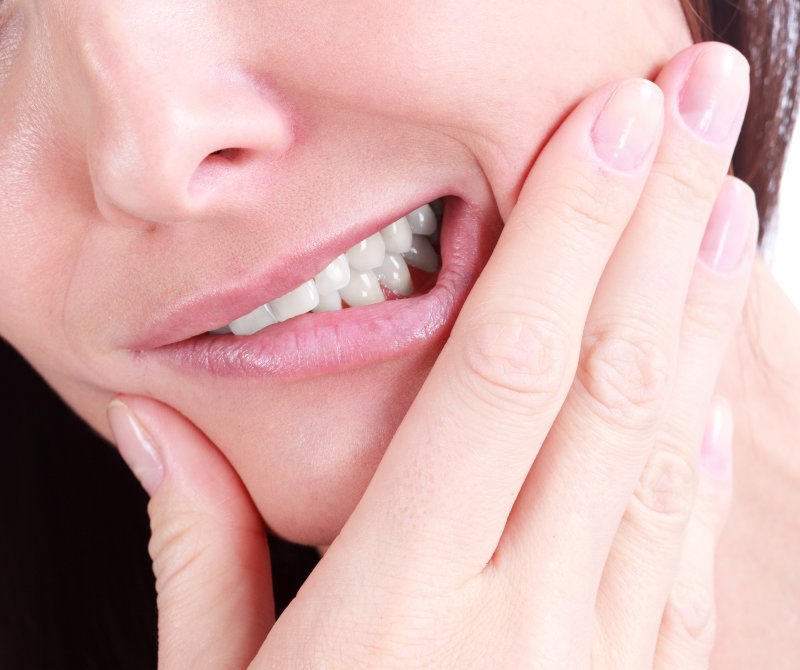 Chronic jaw pain is, unfortunately, a common problem faced by millions of adults throughout the world. When the temporomandibular joints become inflamed, it not only causes increased discomfort but also problems with your bite and ability to perform normal daily functions such as speaking, chewing, and even yawning. While there are many reasons a person can develop TMJ Disorder (TMD), if you are wearing ill-fitting dentures, your artificial smile could be the culprit behind your pain. Read on to find out just how impactful your tooth replacement restoration can be when it comes to the health of your jaw.
What is TMJ?
TMJ is the temporomandibular joint that helps you to open and close your mouth as well as move it from side to side. If your jaw becomes misaligned, not only will it begin to pop or ache, but it will also become inflamed, leading to what is known as Temporomandibular Joint Disorder (or Dysfunction).
The most common causes for TMJ include:
Misaligned jaw
Facial injury
Bruxism (teeth grinding)
Ill-fitted dentures
How Can My Dentures Impact My Jaw Health?
If you're surprised to see dentures as a possible cause for TMD, allow us to explain. When teeth are missing, your oral health can be negatively impacted. By choosing dentures to replace your missing teeth, you might think you're improving your oral health by restoring your facial structure and preventing additional teeth from shifting out of place; however, an ill-fitting prosthetic can add to the symptoms associated with TMD, such as:
Headaches
Stiffness in your neck and shoulders
Difficulty moving your jaw muscles
Increased pain in your jaw
In order to keep your risk of developing TMD low or prevent additional symptoms from occurring, it is best to make sure your dentist regularly checks your dentures. Over time, it is natural for your face, jaw, and gums to go through changes. When this happens, you will need to have your dentures relined or readjusted to ensure a proper and comfortable fit for your mouth and jaw.
Don't let your dentures become a problem. The moment you begin to notice an issue or feeling of discomfort, talk to your dentist about checking your restoration. With frequent checks and adjustments, you can a pain-free, full, complete smile.
About the Author
Dr. Richard Aguila earned his bachelor's degree in Chemistry, graduating Summa Cum Laude, as well as his Doctor of Dental Surgery degree from West Virginia University. He then went on to attend the Naval Medical Center San Diego to complete a hospital-based General Practice Residency. Dr. Aguila also possesses a master's degree in health sciences and a certificate in periodontics. At Jacksonville Dental Specialists, he and Dr. Matthew Nawrocki can help you combat chronic jaw pain using the right solutions. If it's a problem with your dentures, you can expect nothing but the best as they work to ensure a comfortable fit to not only help relieve the symptoms of TMJ but also create a more beautiful smile. To learn more, contact us at (904) 683-4781.