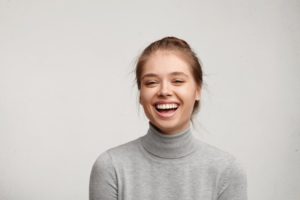 Do you have chips in your teeth? Does your smile look a little more yellow or dull than you would like it to be? Are your front teeth slightly crooked, but not enough for braces or Invisalign? Sounds like you could benefit from porcelain veneers. These restorations can instantly correct a variety of imperfections in your smile. But can they ever be removed? Or are they permanent? Continue reading to find out.
What Are Porcelain Veneers?
Porcelain veneers are custom-made shells of durable dental porcelain that are bonded to the front-facing surfaces of any affected teeth. They are perfect for concealing just about any cosmetic issue in otherwise healthy teeth, such as:
Small chips and cracks
Stains or discoloration
Slightly gapped teeth
Mildly rotated or crooked teeth
Teeth that appear short or stubby
Dental porcelain perfectly mimics tooth enamel, even down to the way that light bounces off it. Your cosmetic dentist will be sure to color-match the veneers to your natural teeth, so they look beautiful but not strange in your smile.
Your dentist will usually need to remove a tiny sliver of enamel, so the veneers lay flush against your teeth. Otherwise, the shells will look bulky and stand out. Once the veneers have been bonded to the front of your teeth, they can last up to 20 years as long as you take good care of them.
Can Veneers Be Removed?
Veneers are meant to last a long time, but they are unfortunately not permanent. If the veneer has been damaged, it needs to be replaced by your dentist. They are the only person who can safely remove them without damaging the sensitive tooth underneath. If your veneers have been chipped, there is sadly no way to repair them. You will have to have them replaced. However, this gives your dentist an opportunity to take new impressions of your teeth to design veneers that fit even better.
How Can You Make Your Veneers Last?
By following these steps, you can increase the longevity of your veneers:
If you grind your teeth, ask your dentist about a nightguard to prevent your veneers from wearing away.
Practice good oral hygiene with regular brushing, flossing, and checkups with your dentist.
Wear a mouthguard during physical activities like sports.
Don't use your teeth as tools to open or hold things like packaging.
Your veneers can be removed, but by following the steps listed above, you can keep that from being a necessity. Ask your cosmetic dentist if porcelain veneers would be right for you.
About the Author
Dr. Matthew Nawrocki completed a three-year residency in Prosthodontics, including porcelain veneers, at the University of Florida. He then earned a Specialist Certificate in Prosthodontics as well as a master's degree in Dental Science. If you are interested in correcting your smile flaws with veneers, contact Dr. Nawrocki at (904) 683-4781.