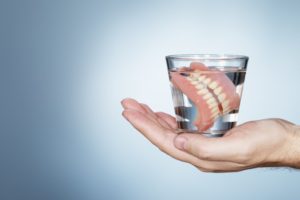 Properly caring for your dentures is important for both the health of your mouth and the longevity of your dentures. It's important to keep your mouth healthy so you don't get an infection. Keeping your dentures clean is also crucial for making sure your dental health stays in good shape. But how can you take care of your dentures? By soaking them! Let's look at the importance of soaking dentures.
Why Should You Soak Your Dentures?
In order for your dentures to maintain their form and fit comfortably in your mouth, they need to be moist at all times. When they dry out, they can lose their shape. When you're not wearing them, place them in a container of lukewarm or cold water or denture cleaner. Make sure the water is not hot, as that could warp the material and cause your dentures to not fit correctly.
If you have implant-retained dentures, your soaking habits may look a little different. Don't let them soak in a cleansing solution, as that could tarnish your metal attachments. Your dentist can recommend a better method of cleaning them.
How Else Can You Care for Your Dentures?
Taking care of your dentures is really easy if you stick to the following steps:
Handle them carefully. It's all too easy to drop dentures when holding them. To be sure this doesn't happen, don't handle them without standing over a towel or a full sink of water.
Brush and rinse them every day, but don't use toothpaste. Toothpaste is actually abrasive to your dentures. Using it can create microscopic scratches where food can get caught and plaque can accumulate. This can cause gum disease and cavities in any remaining teeth you have. Use a soft-bristled brush specifically designed for dentures to remove any surface stains and clear away plaque. In addition, rinse out your dentures after every meal or snack.
Soaking your dentures is important for cleaning them, and so is daily brushing and rinsing. If you have more questions about caring for your dentures, don't hesitate to ask your dentist.
About the Author
After graduating from the University of Florida College of Dentistry, Dr. Matthew Nawrocki attended a three-year residency in Prosthodontics, or artificial teeth restorations, at the University of Florida. He has also received a Specialist Certificate in Prosthodontics, so his expertise in dentures is off the charts. To learn more about caring for your dentures, contact Dr. Nawrocki here or call (904) 683-4781.