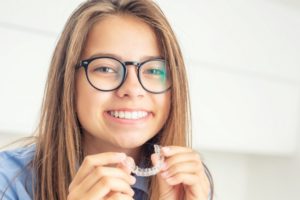 Invisalign is a popular method of achieving a straighter smile. You simply have to wear clear plastic aligner trays for a prescribed amount of time. Hardly anyone has to know you're even getting orthodontic work done. As great as it sounds, however, Invisalign requires some effort on your part. You have to make a few sacrifices for successful treatment. Let's talk more about any possible lifestyle adjustments you may need to make for Invisalign to work.
Are There Dietary Restrictions?
Unlike traditional braces, Invisalign can be removed at any time. That means you are free to eat and drink what you like. However, you have to be sure to remove them every single time you eat or drink anything besides water. Otherwise, anything that could stain your teeth would also stain your aligners. Be extra careful to take them out when consuming things like:
Coffee
Tea
Red wine
Tobacco
Berries
Tomato sauce
How Often Do You Need to Brush Your Teeth?
Brushing your teeth at least twice a day is important for everyone, but especially if you're wearing Invisalign. After you eat, remember to brush (and floss) before you place your aligners back in. If you neglect to do so, you could contract gingivitis and gum disease by putting your trays over your unclean teeth.
How Long Should You Wear Your Aligners?
Generally, you'll be required to wear your aligners for 20-22 hours a day, although your cosmetic dentist may suggest something different depending on your case. That basically means you'll only have time to take them out at mealtimes. You'll have to cut down on mindless snacking throughout the day. But hey, that also means you might lose some weight in the process!
How Much Does Invisalign Cost?
Most patients prefer Invisalign to traditional metal braces because they're more discreet, convenient, and comfortable. Typically, they are more expensive than traditional braces, but not by very much. Contact your insurance company and find out whether they will cover Invisalign. Most of the time, dental insurance will cover at least half the cost of orthodontic treatment, especially if you're under the age of 18. Cost may vary depending on the length of treatment and the severity of your dental misalignment.
Invisalign may require some lifestyle changes, but it will all be worth it to see your straight teeth smiling back at you in the mirror when it's all over. Schedule a consultation with your dentist today to see if Invisalign is right for you.
About the Author
Dr. Richard Aguila earned his Doctor of Dental Surgery from West Virginia University, and then moved to Jacksonville to practice with Dr. Matthew Nawrocki. Dr. Aguila has achieved a master's in health sciences with Honors. He also is certified to provide Invisalign to those in need of straighter smiles. To get started aligning your grin, contact Dr. Aguila at (904) 683-4781.