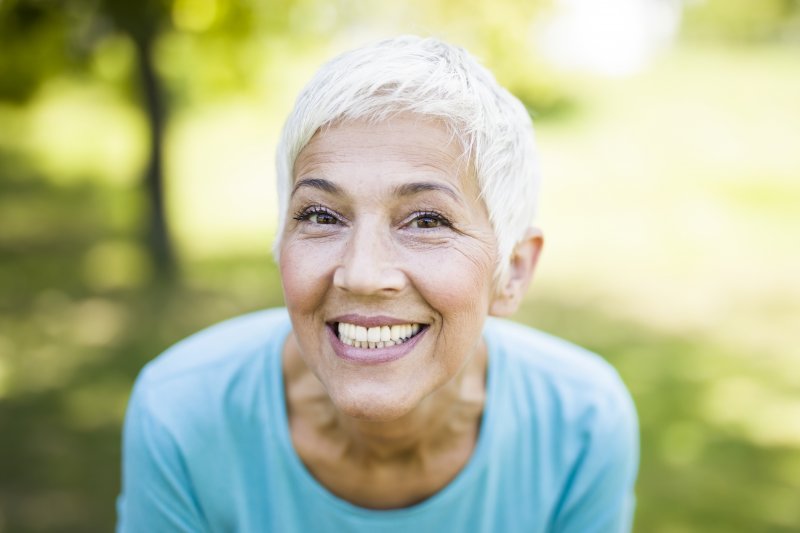 When needing a tooth replacement solution, one of the most superior methods of treatment is dental implants. These stable and permanent fixtures can restore functionality, visual appearance, and overall oral health. But did you know that your implant placement probably consists of multiple parties working to create your new and improved smile? Find out why Hybridge dental implants can not only restore your smile but give you greater confidence, too!
What Are Hybridge Dental Implants?
If you are missing all your teeth, you can benefit from Hybridge dental implants. Hybridge is a company that offers full mouth restorations and uses only the most advanced dental technology. Traditional dental implants are typically manufactured by one company, and your restoration is created by individuals who work in a dental lab, so multiple companies play a role in creating your smile.
With Hybridge implants, highly trained technicians will work alongside your dentist to provide you with functional, beautiful results. They are similar to implant-retained dentures, but they use teeth that are made out of materials only approved by the American Dental Association (ADA).
What is the Process for Getting Hybridge Dental Implants?
Whether all your teeth have fallen out or you are preparing to have them extracted, Hybridge dental implants can completely transform your smile. Much like regular dental implants, Hybridge implants are placed in the same way with these steps:
Your dentist will begin by crafting a treatment plan for surgery and aftercare.
He'll administer anesthesia or sedation to ensure you are comfortable and at ease throughout the procedure.
Making a few incisions in your gum line, your dental team will strategically place 4 to 6 implants along your jawbone to ensure they will offer the right level of support for your denture.
Before leaving your first appointment, you'll be fitted with a temporary dental implant denture.
You'll spend the next several weeks or months healing at home and allowing the implants to fuse to the bone.
When you return, your custom restoration, which is also created by Hybridge, will be secured into place with abutments and screws, giving you full functionality, stability, and an aesthetically pleasing appearance.
What Are the Benefits?
If restoring your smile and improving your confidence level isn't enough, here are some other benefits to Hybridge dental implants:
Restored functionality when eating, chewing, or speaking
A restorative solution that can last decades if not a lifetime with minimal maintenance
Natural look and feel
Within a matter of months, you will have a smile that can be proud to show off. No more hiding in photos or avoiding social situations. With a Hybridge dental implant smile, you'll be the envy of those around you.
About the Author
Dr. Matthew Nawrocki earned his Bachelor of Science degree in chemistry from the University of Florida. From there, he went on to attend the University of Florida College of Dentistry, earning a Doctor of Dental Medicine degree. Dr. Nawrocki and his team are proud to offer Hybridge dental implants to patients looking for a viable, longer-lasting tooth replacement solution. To learn more about this unique treatment option, contact us at (904) 683-4781.