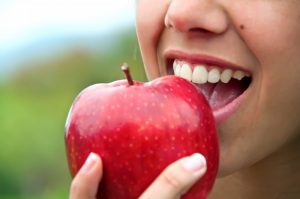 Some people eat to live, while others live to eat! If you fall into the latter category, there's nothing worse than something hindering your ability to chew all of your favorite foods. Whether it's missing teeth or a loose denture, oral health problems can affect your biting strength and how you consume foods. Thankfully, dental implants can allow you to eat items that you can't with any other replacement solution. Keep reading to learn about the different foods that you can eat with dental implants.
What are Dental Implants?
Dental implants are small titanium posts that are surgically placed in your jawbone to act as artificial tooth roots. Because they are made of titanium, a biocompatible material, they will fuse to your jawbone to create strong and sturdy supports for a variety of dental restorations. This is the only option that allows your implant dentist to replace your entire tooth from the root up, and with proper care, dental implants can last for a lifetime. Additionally, they are the only replacement that prevents jawbone deterioration after tooth loss by stimulating it. When you lose teeth, your jaw loses some of the stimulation it needs to stay strong and healthy, which is why dental implants are key in preserving it.
Why Can Dental Implants Help Me Eat Better Than Other Options?
Because they are rooted in your jawbone, dental implants look, feel, and function like your natural teeth, allowing for the confidence to eat a wide-range of foods. While other replacements like dentures slip and slide around when eating, dental implants act like your natural teeth, chewing through various items with ease.
What Foods Can I Eat with Dental Implants?
There are some foods that you simply can't eat with other replacement options, but dental implants and the Hybbridge replacement method allows you to eat tough items like corn on the cob or apples. Additionally, you can cut through foods like steak, popcorn, sticky items, and much more. Besides the fact that you can taste and enjoy all of your favorite foods, the best part is that implants will give you the confidence to talk, laugh, and chew in public without worrying about your smile moving around.
Are you ready to get started on a healthier set of teeth and a tastier diet? Contact your dentist to take your first step towards smile confidence and strength.
About the Practice
At Jacksonville Dental Specialists, Dr. Matthew Nawrocki and Dr. Richard Aguila are a team of expert dentists with different skills and backgrounds to offer a variety of services all under one roof. Specifically, Dr. Nawrocki is a trained prosthodontist who specializes in the restoration of dental structure and the preservation of bone. For any questions, they can be contacted through their website or by phone at (904) 683-4781.