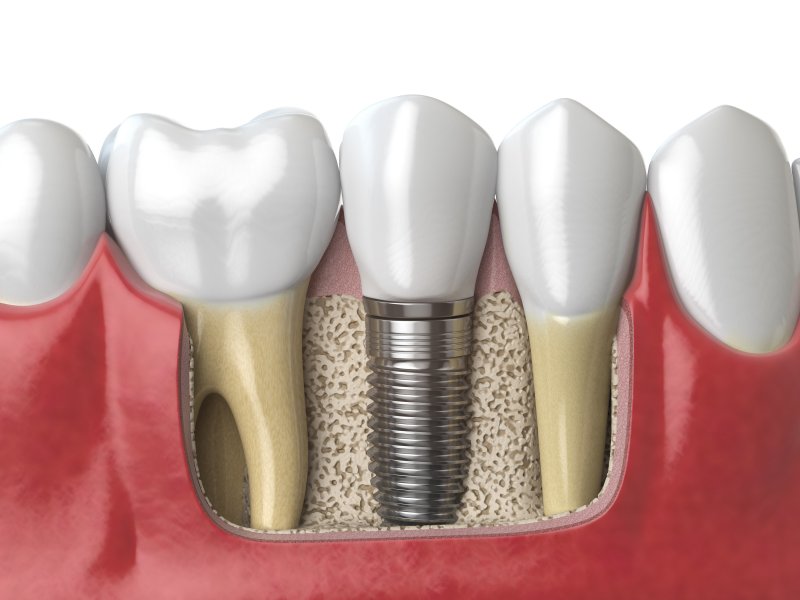 Whether you've decided to move forward with dental implants to replace your missing teeth, or you're simply surveying your options, it's important to have all the information you need to make an informed decision. Not only are these restorations an investment in your time and money, but they can improve your oral health better than any other tooth replacement solution. Let us provide a bit more detail with regard to the dental implant process and just how much time you can expect to dedicate to this procedure.
What Are Dental Implants?
Dental implants are made of titanium and serve to mimic your natural tooth root. Whether you're having one or multiples placed, dental implants can restore more than the visible portion of your tooth. It also restores the structure of your tooth, stimulating the bone that needs to stay strong to support the customized restoration.
Because they're surgically implanted into the jawbone, you don't have to worry about them falling out. It's the one restorative procedure that ensures true stability, giving you the confidence you need to effectively speak, eat, and chew without worry.
What is the Procedure Like?
Having dental implants placed is a two-phase procedure. During the initial consultation with your dentist, you'll discuss the number of implants you'll need and their location within your mouth. Using a CT Conebeam Scanner, the dentist will be able to see your mouth in its entirety. Once it's determined you have enough bone density to move forward with the procedure, you'll return for the first phase.
The First Phase
Once you are seated, the dentist will administer either local anesthesia or another method of sedation to make sure you are comfortable throughout the procedure. Making a small incision in the gum line, he will insert the implant and position it for optimal stability. The wound will be stitched together, and he will place a protective cover over the surgical site. For the next 3 to 6 months, you'll spend that time healing and allowing a process known as osseointegration to occur. This is when the implant must fuse to the bone to ensure a successful placement.
The Second Phase
When you return, and once the dentist has decided you are fully healed, he will remove the protective covering and place an abutment, which connects the implant to the custom-made crown. The last step is to attach the restoration, which will be customized to match the color, size, and shape of your natural tooth.
How Long Does It Take to For Implants to Heal?
Once the procedure is complete, it will be required that you spend some time relaxing afterward. On average, you can expect the recovery time to last around 7 days. Of course, every patient is different, so don't be surprised if you need a little extra time.
Depending on the number of implants you had placed, whether you had to undergo pre-implant dental work (bone grafting), and individual healing time after the first phase can determine how long your recovery will take.
If you're ready to restore your smile to its entirety, have increased confidence around others, and enjoy living a life without the worry of accidental slippage, talk to your dentist about dental implants and how you can get started.
About the Author
Dr. Matthew Nawrocki earned his Bachelor of Science degree in chemistry from the University of Florida. From there, he went on to attend the University of Florida College of Dentistry, earning a Doctor of Dental Medicine degree. As a dental professional with Jacksonville Dental Specialists, Dr. Nawrocki and his team understand that the longer you wait to replace a missing tooth, the greater the chances for future dental problems. By entrusting your smile to Dr. Nawrocki, you can rest easy knowing you'll receive an improved, more beautiful smile. To learn more, contact us at (904) 683-4781.