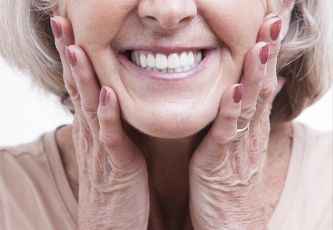 If you think you may need dentures soon, it's natural to have a few questions about how it works. Many people are (understandably) apprehensive about spending time without any teeth and want to know how long they'll have to wait to get their new dentures after their extractions. If you can relate and would like to know more about the denture process, you've come to the right place! Keep reading to find out how it works and get one step closer to having a new smile that looks and feels great.
How Long Do You Have To Wait After Extractions To Get Your Dentures?
Many people are relieved to learn that a dentist can make what's called an immediate denture the same day their teeth are taken out. This serves multiple purposes and will generally help you through the transition:
First and foremost, it means you don't have to spend any time without teeth.
It also acts as a sort of "band-aid" to help your tissues heal in the days and weeks following your extraction procedure.
Since the impressions for immediate dentures are taken before your extractions are done and while you still have some existing teeth, it's easier to make them look more natural.
Your tissues and the underlying jawbone will fully heal in 3-6 months. Then you have the option to either continue using your immediate denture or have a customized denture made.
Important Considerations To Think About
Many people aren't sure if they want to have a customized denture or continue using their immediate denture. Here are a few things to think about to help you make your decision:
After your teeth are taken out, your jaws will begin to shrink and change shape right away. This means that an immediate denture will need to be refitted and adjusted several times to accommodate these changes.
In some cases, the jaws change shape so much that immediate dentures can't be adequately adjusted and a customized denture is still necessary.
Relining a denture many times will add to your final cost.
Since every patient has unique circumstances, the best way to determine what's right for you is to schedule a consultation. That way, a dentist or prosthodontist (a specialist in replacing missing or damaged teeth) can evaluate your needs and discuss the best options for you.
The idea of having your teeth taken out can be daunting for anyone. But remember that many people have successfully come through the denture process and gone on to have a great experience. And with an immediate denture, you won't have to go a single day without teeth!
About the Author
Dr. Matthew Nawrocki has over a decade of experience in general dentistry and is also a prosthodontist. He's dedicated to helping his patients lead happier, healthier lives by restoring their smiles with high-quality dentures after tooth loss. If you have any other questions about the denture process, he can be reached via his website.