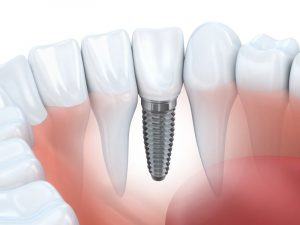 If you're missing a tooth, you may have heard about an amazing option for restoration—dental implants. Not only does a dental implant fill in the gap left on the surface, but it also helps promote your oral health in the long term. They are typically very successful and give patients many benefits that can last for 30 years or even longer! But not all dental implants work. Check out this helpful information about dental implant failure in Jacksonville.
How do dental implants work?
Dental implants are titanium screws that are surgically placed into the missing tooth's socket, which stimulates growth in the jaw bone. Over the course of a few months, the bone surrounds and bonds with the implant, securing it in place. After this has happened, an abutment and a dental crown are placed on top, fully restoring the missing tooth.
At least, that's how it is supposed to go with dental implants.
What are signs that a dental implant has failed?
If you experience these symptoms shortly after the implants have been placed, your dental implant may have failed:
Pain at the site.
Movement in the part of the implant that is submerged in the jaw bone.
Bone loss.
Bleeding.
Formation of pus.
Some of these failures can be treated through removing the implant, restoring the site with a bone graft, and waiting for it to heal before placing another fixture.
After the dental implant has become integrated into the bone, there is a 95% likelihood to still be successful at the 10-year mark. However, some dental implants can fail years later. If you have these symptoms, you should talk to your dentist right away to check on your implants:
Discomfort and pus in the gums.
Bleeding from the gums.
Why do some dental implants fail?
Many times, dental implants fail in the short term because the bone doesn't heal properly, which can be caused by smoking, poorly managed diabetes, or low bone density. You also increase your risk of failure with poor oral hygiene or gum disease.
One of the most common reasons for long-term failure is called peri-implantitis. It is similar to gum disease in that an infection in the gum leads to infection in the bone that supports the implant. It also eventually causes bone loss, potentially making the dental implant come loose. Other long-term failures relate mostly to the prosthetic restorations on top of the implant, which are much easier to fix.
In the end, although dental implants are still one of the best options for tooth restoration, it is important to be aware of the potential risk for failure. By knowing this information, you can do more to ensure success with your dental implant both in the short term and over the long haul. To know whether you're a good candidate for dental implants, schedule a consultation with your dentist in Jacksonville. They will be able to help prevent failure by making sure that they are a good fit for you.
About the Practice
At Jacksonville Dental Specialists, Dr. Matthew Nawrocki (a prosthodontist) and Dr. Richard Aguila (a periodontist) offer many years of experience helping patients restore their smile's health. They are a certified provider for Hybridge, a leading entity at the forefront of dental implant placement and restoration. To make an appointment with them, you can call (904) 683-4781 or click here.