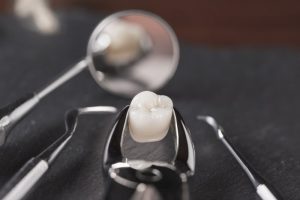 Due to decay, trauma, or issues with the wisdom teeth, tooth extractions are sometimes necessary. There is no reason to dread this treatment; dentists take great care to ensure that their patients are comfortable throughout the extraction procedure. Afterward, however, your level of comfort largely depends on how closely you adhere to your dentist's postop instructions. Here are some tips on tooth extraction aftercare in Jacksonville to help your recovery proceed as smoothly as possible.
Manage Pain and Bleeding
Immediately after your procedure, the extraction site may continue to bleed for a while. Use clean gauze to absorb the blood, replacing it as the material becomes saturated. Icing the area for 10 – 20 minutes at a time can reduce swelling and decrease the rate of blood flow to the area. Be careful not to over-ice; prolonged exposure to extreme cold may cause tissue damage.
Also, your dentist in Jacksonville may prescribe you painkillers and antibiotics; take them as instructed. If you aren't prescribed painkillers, you can use over the counter medications to cope with any discomfort.
Don't Push Yourself
You might be eager to jump back into your normal routine following a tooth extraction. However, caution is in order. You may feel groggy or exhausted after your procedure, and you should listen to your body when it tells you to rest. You may be feeling well enough to return to work or school within a week or so. You should also avoid strenuous exercise for at least 48 hours after the extraction.
Mind the Blood Clot
After an extraction, your body promotes healing by forming a blood clot at the site. The clot protects the empty tooth socket and shields the bone and nerves from exposure to outside substances. It's important that you do not accidentally dislodge the clot because doing so could lead to a painful complication known as dry socket.
To keep the clot in place, you should:
Avoid the use of straws for a few days.
Do not smoke.
Do not brush the extraction site for a few days; swishing with an oral rinse or cool water should keep the area fairly clean until you can resume normal oral hygiene practices.
Adjust Your Diet
Hard or crunchy foods can irritate the extraction site. Thus, it's best to stick to eating soft foods for a few days. Applesauce, soup, pudding and yogurt are all good choices. You could even indulge in some ice cream (just be sure to avoid any flavors with nuts or other hard additions).
Keep Your Dentist's Number Handy
If you have any questions or concerns during your recovery, don't hesitate to call your dentist's office. They want you to get back to feeling your best as soon as possible, and they can offer tips and suggestions to help you cope with any issues you may encounter.
Are you scheduled to have one or more teeth extracted? Use the above advice to make your journey back to a healthy mouth as stress-free as possible.
About Jacksonville Dental Specialists
Drs. Matthew Nawrocki and Richard Aguila are dental specialists who provide comprehensive, caring oral health services to the Jacksonville community. If you suspect you need to undergo a tooth extraction or you have other concerns about how best to care for your mouth, contact our office at 904-683-4781.