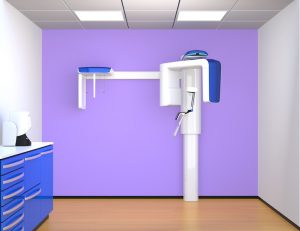 Are you missing or about to lose one or more teeth? Dental implants are a wonderful option in tooth replacement for many people. They do something no other method does — replace the missing tooth/teeth as well as the supportive tooth root(s). Of course, the procedure is a little more technical than that used for other methods. To ensure maximum comfort and success, you want to make sure that the implant dentist you choose stays on top of the latest technology by offering tools like a cone beam scanner in Jacksonville. What's that, you ask? Well, it's high-tech and very effective in treatment planning — keep reading to learn just what that means.
About the Cone Beam Scanner
When it comes to treatment planning for dental implants, a traditional dental X-ray just isn't good enough. Your dentist needs highly detailed information in order to put together a successful plan for your new tooth replacement. The cone beam scanner does just that! Using a cone-shaped beam, this machine captures all of the soft and hard tissues, nerves, and ligaments of the mouth and surrounding oral structures. This information is then instantly compiled into a single digital image — one your dentist can use to understand precisely where your dental implants should be placed for maximum success and effectiveness.
What to Expect from a Cone Beam Scan
You do not have to do anything special to prepare for a cone beam scan. Many implant dentist will offer this technology in their office, so you should not have to receive a referral to have the scan taken anywhere else. To begin, you will be instructed to remove any large jewelry and stand comfortably beneath the machine. It takes about 30 seconds for the beam to revolve around your head — and you will need to be still throughout the process. Once it is complete, the image will be projected on a screen nearby — and that's it!
Benefits of the Cone Beam Scanner for Implant Placement
The cone beam scanner offers a number of benefits for dentists and patients alike. Some of the most considerable advantages of this technology include:
Can be performed right in the dentist's office, saving you time, money, and effort

Captures a highly accurate and detailed image of your mouth and surrounding oral structures

Improves the treatment planning process for more successful implant procedures

Reduced radiation compared to a conventional CT scan

Images are ready almost instantly and can be stored digitally
And many more! If you are getting dental implants in Jacksonville, make sure that your dentist works with the cone beam scanner for the most successful procedure.
Meet the Practice
The Jacksonville Dental Specialists are just that — two specialists in periodontics and prosthodontics offering expert dental care. This office runs using the latest technology, including a cone beam CT scanner. If you are interested in getting your dental implants from a team of true professionals, give your dentist in Jacksonville a call at (904) 683-4781.