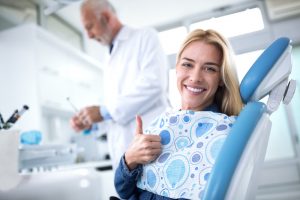 If the thought of visiting the dentist brings about a feeling of dread or unease in the pit of your stomach, you're probably not keeping up with your routine preventive care like you should. Dental fear and anxiety are real, but there is a real solution for both in sedation dentistry. Keep reading to learn more about this option and whether or not it's right for you from your sedation dentist in Jacksonville.
Why Dental Fear Develops
Many people experience some amount of anxiety when it comes to having dental work done. But when it prevents you from taking care of your smile as well as you should, then it's a problem. Dental fear and anxiety often stem from a less-than-positive experience that occurred during childhood, or it may be brought about just as a mere side effect of not wanting to give up control.
Fortunately, today's dentistry is more comfortable than ever thanks to modern methods and tools. You can always discuss your reluctance with your dentist and maybe come up with a few strategies for calming your nerves. For example, having a hand signal to motion when you need a break mid-treatment can help. If you still need a little help relaxing, though, there's always sedation dentistry.
Sit Back and Relax
A sedation dentist is specially trained in the use of medication to help you relax throughout your procedure. Sedation dentistry helps put your mind at ease, while local anesthesia can be used to numb the jaw to ensure that you do not feel a thing at the treatment site.
Two common types of sedation dentistry are nitrous oxide and oral conscious sedation. Nitrous oxide is laughing gas, a type of sedation that helps you feel light, tingly, and maybe even happy to be in the dental chair. Oral conscious sedation is administered with a pill you take about an hour before the procedure begins — by the time you are relaxing into the dental chair, its effects have taken over. You may doze lightly while under oral conscious sedation, but you will technically be awake and able to respond to your dentist's questions.
IV sedation is also available for patients who are undergoing more complex procedures or who have significant anxiety or fear.
Sedation dentistry is often a wonderful option in the following situations:
People who are extremely nervous or anxious visiting the dentist

Patients who have neck, back, or shoulder pain which makes it difficult for them to lie back in the dental chair for an extended period of time

Patients who wish to undergo several procedures at once or have a long treatment completed in a single appointment
If you or a loved one struggle to visit the dentist due to mental or physical barriers, your oral health may be at risk — and that can have serious implications for your overall well-being. Dental fear can be overcome, however! Don't hesitate to get in touch with your sedation dentist in Jacksonville to discuss your options.
Meet the Practice
The Jacksonville Dental Associates offer complete dental services from their comfortable dental practice. They offer oral and IV sedation to help patients relax fully throughout their treatments. Dr. Nawrocki and Dr. Aguila can be reached by phone at 904-323-0928.