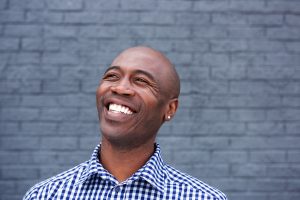 Do you frequently find yourself hiding your smile in a photo-op? You deserve better — and porcelain veneers in Jacksonville are a wonderful way to transform your smile into something you can really be proud of. They help you enjoy new teeth that look and feel completely natural… and the science behind this treatment is something impressive. Keep reading to find out why.
How Veneers Are Made
Porcelain veneers can transform front teeth that have been affected by just about any cosmetic imperfection, from chips and cracks to gaps between teeth, stains, discoloration, and anything else. Once you and your dentist decide that veneers are a good option for your healthy but flawed front teeth, you will come in for a visit in which a sliver of tooth enamel is removed from the surface of each imperfect tooth. An impression or mold of the prepared teeth is then taken, and your treatment plan is put together considering your unique facial structure. Using the mold and the specific details of the size, shape, and color of your veneers, an expert ceramist in a partner laboratory will create each veneer according to your one-of-a-kind needs.
Dental Porcelain: A Super Material
Most dental veneers are created from a block of dental porcelain. This material offers a number of benefits for people looking to transform the appearance of their smiles — first of all, it reflects light in just the same way as the tooth enamel to ensure the veneers look completely natural. However, unlike your natural tooth enamel, porcelain is non-porous. That means it will not absorb the discoloration from what you eat and drink like the teeth you were born with will. For this reason, you can think of getting veneers sort of like getting a permanent teeth whitening treatment! That's something to really love about veneers.
Veneer Placement
Once the veneers have been created in a special laboratory, they will be shipped back to your dentist in Jacksonville's office and you return for the follow-up appointment, when the temporary restorations are removed and each permanent veneer is affixed to the surface of the tooth. Using a special chemical bonding agent, the enamel is roughened up and the veneers are placed securely onto the area — and then your smile is complete!
Thanks to the magic of porcelain, dental veneers can last for many years with proper care and maintenance. Continue to brush and floss your teeth normally and visit your dentist for routine checkups and cleanings. And don't forget to show off that new smile!
Meet the Practice
The Jacksonville Dental Specialists provide general, restorative, and cosmetic dental care from the comfort of their modern dental practice. Cosmetic treatments like porcelain veneers can help many patients to smile with full confidence once again. To learn more about your cosmetic dentist in Jacksonville or to schedule an appointment to discuss porcelain veneers, you are invited to contact their office at 904-683-4781.