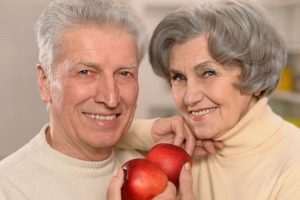 Some people hesitate to consider dental implants in Jacksonville because this treatment costs more than other tooth replacement methods. However, instead of seeing them as an expense, we encourage you to view them as an investment that offers some big-time returns — returns that you can't assign a monetary value to. Let's talk about three reasons why implants are worth every penny.
They Offer Whole-Tooth Replacement
Bridges and dentures are effective ways to replace missing teeth, but they aren't the best. That's because they just replace the top of the tooth — the crown. Implants get surgically placed into the jaw, meaning that they replace the tooth root as well as its top.
Because they replace an entire tooth, implants offer the sturdiest way to restore your smile. You'll never have to worry about them slipping out of your mouth. And once you get used to them, they're so comfortable that you may even forget they're there! Furthermore, since implants establish a unique bond with your body, they may last for the rest of your life; the same thing can't be said about bridges and dentures, which need to be replaced periodically.
They Can Renew Your Confidence
Missing teeth are embarrassing. They can even make you shy away from meeting new people or cause you to hold back from smiling when someone is taking a picture of you. Dentures and bridges might not be much better, especially if they have metal attachments or other qualities that make them appear unnatural.
Dental implants look incredibly natural! Once the restoration is placed over an implant, onlookers will be hard-pressed to notice that your smile isn't the same one that you grew up with. Plus, because they are so secure, you can freely and confidently bite into almost any food without worrying that your teeth will slip out or break under the pressure of a crunchy apple or hearty steak.
They Come With Significant Health Benefits
When you lose a tooth, your body starts to resorb the bone that was holding it in place. Therefore, your jaw can lose density and height. This may affect the shape of your face and even increase the chances that your remaining natural teeth will drift out of place.
Because implants act like tooth roots, they "trick" your body into thinking that your teeth are still there. Therefore, your jaw will continue to receive the blood and nutrients it needs to stay strong and healthy. The implants even serve as placeholders, ensuring that the teeth around them don't start wandering out of their proper positions.
Dental implants are a remarkable solution for missing teeth, and we've just scratched the surface of why they're a worthy investment. If you have more questions about this treatment, your dentist in Jacksonville would be happy to chat with you.
About Jacksonville Dental Specialists
Drs. Matthew Nawrocki and Richard Aguila have both undergone extensive training that enables them to restore their patients' smiles with skill, confidence, and compassion. If you would like to learn more about how they may be able to help you, please contact our office at 904-683-4781.