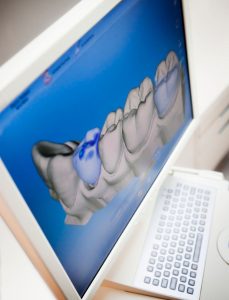 Dental implants have been around for decades, but the methods for placing them have evolved as new technological innovations have become available. Today, we use revolutionary techniques and devices that enable us to place implants precisely where they need to go in a manner that is safe and as painless as possible for our patients. Would you like to know more about the technology we rely on when we're placing dental implants in Jacksonville?
CT Conebeam Scanner
Before your surgery, it's vital that your dental implant dentist is familiar with your mouth and the bones that will support your restored smile. That's why we use a CT Conebeam Scanner to give us a comprehensive look at your jaw and the roots of your existing teeth. The images tell us where the bone is dense enough to support implants and if any of your natural teeth are in the process of shifting.
The CT Conebeam Scanner is a type of X-ray machine, but it does much more than a regular X-ray. It produces extremely detailed, three-dimensional images in a single scan. We use the information from the scan to create a precise plan for your implant surgery.
Trios 3D Scanner
The Trios 3D Scanner is a handheld device that captures detailed digital images of your teeth and jaw. This type of scanner is particularly useful for when your dentist is planning to create the restorations that will go on top of your implants. It allows us to design new teeth that align well with your natural bite and will be as comfortable as beautiful as possible.
Not all dentists use this innovative technology; some still rely solely on old-fashioned manual impressions, which are time-consuming to create and put patients through an uncomfortable process. The scanning process with the Trios device is fast and easy!
Heartrate Monitor
When you entrust yourself to a skilled oral surgeon, you have little reason to worry that there will be complications during the surgery. However, caution is still extremely important. That's why we always use a heartrate monitor during the implant placement procedure. Abrupt changes to your heartrate will let us know if something is amiss, and we can take fast action to address the issue. Keeping track of vital is particularly important for patients who have preexisting health conditions that might affect what happens during their surgery.
Ready to Learn More?
A combination of skill, experience, and technology enable us to create a positive experience for our patients who want to replace their missing teeth with dental implants. If you have questions about the details of the placement process, or you want to know more about implants themselves, your implant dentist will be happy to chat with you!
More About Us
At Jacksonville Dental Specialists, we focus on restoring and beautifying our patients' smiles. Dr. Richard Aguila has even undergone advanced training that makes him a true expert on dental implant placement. If you have questions about our services may benefit you, please contact us at 904-683-4781.