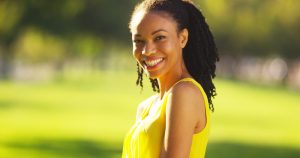 If you are unhappy with the appearance of your smile, you may want to consider porcelain veneers. It is a popular cosmetic treatment that works by covering up the front side of the teeth that show when you smile, so imperfections are beautifully masked from view. With proper care, veneers can last for up 20 years, and maybe more. Keep reading to learn more about the lifespan of porcelain veneers from your dentist in Jacksonville, and how you can help to make sure they last as long as possible!
How Long Do Veneers Last?
Porcelain veneers can be expected to last for up to 20 years before they require replacement. Porcelain is highly resistant to stains, but over the course of their lifespan, you may need to have your veneers polished to keep them dazzlingly white. Veneers will eventually need to be replaced because, even though they are non-living and will not develop decay or other issues, the teeth and gums around them will change over time. This can cause the veneers to lose their fit over time.
Dental veneers are an irreversible treatment, meaning once you have had them placed you will always need something covering up the tooth. Broken or damaged veneers can sometimes be repaired, but usually, the entire veneer will require replacement.
Factors Affecting Dental Veneer Lifespan
There are a number of factors that can affect how long your dental veneers last, from whether or not you grind your teeth at night to how well and regularly you brush and floss. Some of the most important factors affecting the lifespan of veneers include…
Nighttime teeth grinding: If you grind your teeth or clench your jaw at night, you are exposing your veneers to significant stress and pressure. Invest in a customized night guard to protect these restorations and your natural teeth.

Oral hygiene: Brushing and flossing your teeth regularly will keep the enamel behind your veneers healthy and clean to prevent the loss or damage to dental veneers. Solid oral hygiene habits will prevent gum disease, which affects the appearance of veneers.

Brushing technique: You may need to retrain your tooth brushing habits after you get veneers. Cleaning too hard can lead to gum recession, or the gums pulling away from where they should be along the gum line. This will cause a visible line between the veneer and the gums which will need to be repaired with new veneers.

Be careful with your teeth: Never use your teeth as tools to open packages or cut through plastic. This damaging habit is always a bad idea, but especially after you have invested in porcelain veneers.
You'll Love Your Healthy, Beautiful Smile!
With proper care and maintenance, you can expect your dental veneers to last for as long as 20 years. Now that you know a little more about this common treatment method and how it can transform your smile, we invite you to get in touch with your cosmetic dentist in Jacksonville! We can't wait to help you love your smile.
Meet the Practice
The Jacksonville Dental Specialists are a team of experts providing superior dental care for patients in and around Jacksonville. To learn more about their services or to schedule an appointment for superior dental care, go ahead and get in touch with the office at 904-683-4781.