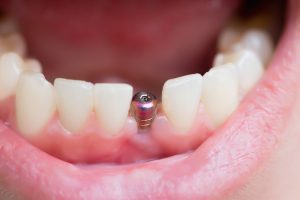 Dental implants in Jacksonville are a wonderful option for patients who are missing one, two, or an entire arch of missing teeth in the upper or lower jaw. Implants offer a comprehensive solution that promotes better oral and overall health for a lifetime to come — and they also have a success rate of up to 98%. However, sometimes dental implants do fail, and when they do, the reason is often smoking. Keep reading to learn more about how tobacco use can impact the success of dental implants.
Studies Say Don't Smoke After Dental Implant Placement
We already know that smoking and tobacco use take a serious toll on overall health, as people who have this habit are more likely to develop a host of health conditions, including lung cancer, oral cancer, and others. Now we can add dental implant failure to the list of adverse effects of tobacco. Studies show that people who smoke are far more likely to experience dental implant failure.
Why is that? Because successful dental implants rely on the fusion of the jawbone with the titanium implant post. If this does not occur, the implant post won't "take," and therefore it cannot provide a secure foundation for the prosthetic tooth/teeth to be attached on top. Smokers are also more likely to develop an infection after dental implant placement. Given the fact that smoking and tobacco use limit the amount of blood flow your jaw bone receives, healing is more difficult when infection does develop — and that can spell real trouble for dental implants.
How to Promote Implant Success
If you are a smoker, the first step to ensuring that your dental implants are successful is to kick the habit. Doing so will improve your oral and overall health and increase the likelihood that your dental implants will heal together properly with the jawbone. Talk to your doctor or dentist in Jacksonville if you are ready to quit smoking but are unsure where to start or if you have been unsuccessful in the past.
In addition to kicking the tobacco habit, make sure you eat a balanced, nutritious, low sugar diet to promote the success of your dental implants. If you have diabetes, be sure to keep your blood sugar under control. And be sure to continue to maintain proper oral hygiene habits, like brushing twice a day and flossing daily, to keep your remaining teeth healthy and to prevent gum disease.
Now that you know more about how smoking can affect dental implants and what you can do to stop the effect, we invite you to contact your implant dentist in Jacksonville to learn more about dental implants, including whether or not you are a candidate! If you are, we look forward to helping you enjoy all the benefits of a healthy, complete smile.
Meet the Practice
Jacksonville Dental Specialists is a trusted choice of superior dental care for patients in and around Jacksonville, FL. You are invited to get in touch with the office at 904-683-4781 to learn more about your options with dental implants or any of their general, restorative, or cosmetic services.