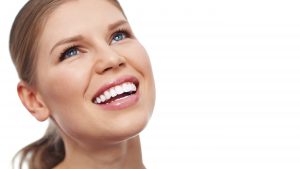 Having a healthy, beautiful smile is as important for your self-confidence as it is for your overall wellbeing. Visible imperfections, however, can take away from the appearance of your smile in a big way. White spots on the teeth, or areas of enamel that are lighter than your surrounding tooth, are one common issue for adults. Your dentist in Jacksonville explains more about why this happens and what you can do about it below.
Why White Spots Appear on the Teeth
One of the most common causes of white, chalky-looking spots is called fluorosis. This occurs when the teeth are exposed to too much fluoride during childhood while the enamel is still forming. Fluoride is a mineral that remineralizes the tooth enamel and, in appropriate amounts, it provides a key role in helping kids stay away from cavities. Unfortunately, overexposure leads to the visible white spots that can last for a lifetime. Kids can get too much of the mineral from a combination of fluoridated tap water, swallowing fluoride toothpaste, and overuse of any other product that contains fluoride.
Another reason for white spots is demineralization of the tooth enamel due to poor oral hygiene that is common with teens or adults who wear braces. When plaque is allowed to linger on the tooth enamel, it turns into tartar — a hard, bacteria-filled substance that slowly absorbs all of the minerals that keep your teeth healthy and strong.
White spots can appear as horizontal or vertical lines in the tooth enamel, or as actual spots. They are flush with the tooth enamel. White spots caused by fluorosis do not present any threat to your oral health, but there is a way around them.
What to Do About White Spots
Having visible white spots on the teeth may make you feel anywhere from slightly aware of their presence to downright embarrassed when it's time to smile. If you would like to get rid of or hide these imperfections, your cosmetic dentist in Jacksonville can help. Most adults are eligible for cosmetic dentistry — and we promise, you'll love the results.
Porcelain veneers are one of the most popular methods for covering up any dental imperfection. These thin, translucent coverings are attached to the front sides of the teeth that show when you smile. They perfectly replicate your natural tooth enamel, for a stunningly beautiful appearance that is free from those pesky white spots.
Dental bonding offers a more affordable alternative to veneers, which are associated with a higher cost. Using this method, your dentist applies a biocompatible composite resin to the damaged tooth enamel to improve the appearance of broken, chipped, irregular, or, yes, stained teeth.
No matter the treatment that is right for you, you will feel confident when you partner with Dr. Matthew Nawrocki and Dr. Richard Aguila!
Meet the Practice
The Jacksonville Dental Specialists provide comprehensive dental care from the comfort of their state-of-the-art office. To learn more about porcelain veneers, dental bonding, or their other general, restorative, and cosmetic services, you are invited to contact the office at 904-683-4781.