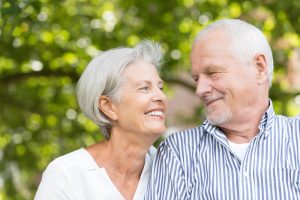 January is a time of renewal and fresh starts, and it's when many of us rethink our health habits. When you're considering how you can improve your overall wellbeing this month — or any time of year — are you thinking about your gums? Periodontal (gum) health plays a big role in your systemic health, and there are some steps you can take to improve it. Keep reading to find out what your periodontist in Jacksonville has to say about the dangers of unhealthy gums, and how you can reverse the side effects today.
Gum Health Closely Linked to Overall Wellbeing
As the foundation of the teeth that help you chew, speak, and smile, your gums do an important job. They also provide bacteria with an easy entry into the bloodstream, which is what makes your gums so closely tied to what goes on in the rest of your body. People who have healthy gum tissue are more likely to enjoy better overall health as a result. On the other hand, research shows that gum disease, a chronic inflammatory disease, raises the risk of heart problems, respiratory illnesses, and a host of other issues. It can also place pregnant women at a higher risk of preterm labor and low birthweight. That means maintaining proper oral hygiene and monitoring your gum health is important for more than just your smile — your very wellbeing depends on it, too.
Why Do Unhealthy Gums Develop?
The most common reason for unhealthy gums is gum disease, which is caused by insufficient oral hygiene. When you do not brush and floss your teeth thoroughly every day, plaque and food particles are allowed to accumulate on the surface of the teeth and around the gums. Over time, bacteria makes a home in deep pockets between the teeth and gums — slowly eating away at the gum and bone tissue and putting your health oral and overall health at great risk.
How to Improve Your Gum Health
It's not too late to care for your gums. If you are experiencing the warning signs of gingivitis or gum disease — like red, tender, or bleeding gum tissue — it is important that you visit your dentist to find out if you need gum disease treatment.
In general, some tips for improving your gum health include:
Brushing your teeth twice a day or after each meal

Using a fluoride toothpaste

Flossing teeth daily

Adding an antimicrobial mouth rinse to your oral hygiene routine

Eating a balanced, nutritious diet

Visiting your dentist at least every six months for routine care
All of these ingredients add up to a happy, healthy smile — and 2018 is a great time to take the steps to get yours!
Meet the Practice
Dr. Matthew Nawrocki and Dr. Richard Aguila provide comprehensive dental care, including periodontal therapy, from the comfort of their modern dental practice. To learn more about their other general, restorative, and cosmetic services, do not hesitate to contact your dentist in Jacksonville at 904-683-4781.