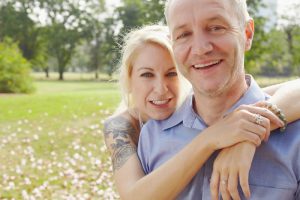 It's hard to take a bite out of life when you're missing one or more teeth — and, in the worst cases, it can mess with your self-confidence in a big way. Finding an excellent replacement option can help to ensure you don't miss out on everything that's headed your way. A fixed bridge, partial denture, and dental implants in Jacksonville are three options for tooth replacement. Keep reading to find out how they work and which one may be best for you!
Fixed Bridge
If you're missing just one tooth and want to go the traditional route, you may decide on a fixed, 3-unit bridge. This is a non-surgical option that you can't take out for cleaning. The fixed bridge is attached to the two healthy teeth that surround the gap with sturdy dental crowns. A prosthetic tooth or crown, the pontic, fills in the empty space between.
This option requires the alteration of the healthy teeth around the gap. It provides a sturdy solution that allows you to eat, speak, and smile without worry of issues associated with tooth loss.
A fixed bridge is usually made out of porcelain fused to metal (FTM) or ceramic, which can be customized to match the surrounding tooth enamel perfectly.
Dental Implants
For patients who are in good oral and overall health, dental implants offer a superior option following any amount of tooth loss. These small titanium posts replace the missing tooth's root as well as its visible crown, which is affixed on top. Dental implants can fill in the gaps left by a single tooth, several missing teeth, or an entire arch in the upper or lower jaw.
The benefits of dental implants are many, and include…
A comprehensive replacement provides unsurpassed stability for your smile

Natural-looking solution

Dental implants fit perfectly from day one and for years after

Easy to brush and floss

Can last a lifetime with proper maintenance
Dental implant procedures are completed over the course of several months to one year. First, they are surgically placed beneath the gum line. After a healing period of four to six months, the dental implants are sturdy in the jaw and can be restored with the prosthetic tooth or teeth.
Partial Denture
If you are missing more than one tooth, a traditional partial denture may be the right solution for your smile. This option fits in with the surrounding teeth like a missing puzzle piece. It is held in place using metal brackets and is made from natural-looking materials to ensure it blends well with the rest of your smile. A partial denture can also be retained by dental implants for added security.
Which Is Right for You?
If you are in good oral and overall health and your tooth loss is recent, you may be an excellent candidate for dental implants. The only way to know for sure which is right for you is to schedule an appointment with your dentist in Jacksonville! When you do, you can feel confident knowing you are making the best decision for your oral health.
Meet the Practice
The Jacksonville Dental Associates are a team of dentists and dental experts providing the highest level of care for patients of all ages. To learn more about their services, including high-quality tooth replacement, please do not hesitate to get in touch with the office at 904-683-4781.