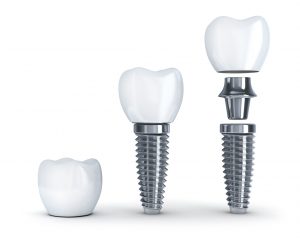 If you're missing a tooth or even several, the best thing you can do for your smile is replace them as soon as possible. These days, replacing teeth is simple thanks to advanced technology. It's even simpler when you have a dental team behind you that not only has the resources and training that you need, but has a practice that is equipped with the modern tools needed to place dental implants successfully.
If you're interested in replacing your teeth with dental implants, you can learn more about the process and how your dentist in Jacksonville uses modern practices to complete a successful placement.
Dental Implants Have Advanced Over the Years
There have been findings of dental implants that date back to ancient times. Even our ancestors understood that having all of your teeth is important! Instead of using jade, stones, or even other animal's teeth to replace missing human teeth, we now have made advancements that can replicate a tooth from root to crown.
We use a much safer, predictable, and effective way to replace lost teeth. Today, dental implants have an average 95% success rate with long-lasting, permanent results!
Your Dentist Accurately Places Dental Implants With Advanced Technology
When you need a tooth replaced with dental implants, expect to complete two phases for placement. The first step includes using state of the art technology to plan and your placement accurately. The second includes the actual oral surgery backed with Hybridge advanced training and quality control.
CT Conebeam Scanning and TRIOS 3D Scanning for Accurate Placement
Planning is a critical part of getting dental implants. Before even thinking about moving forward with oral surgery, your dentist will use a CT Conebeam Scanner to capture panoramic views of your jawline. This is important because it allows your dentist to understand where your bone is dense enough to support the dental implants. If there is a problem with jawbone density, your dentist can discuss ways to improve that before moving forward with dental implants.
Then, your dentist will use a TRIOS 3D Scanner to capture accurate images of your teeth. This process is super quick and much more convenient than traditional methods like messy impressions. Your dentist will simply use a handheld scanner and complete this portion of the placement planning in a matter of minutes.
Hybridge Advanced Training
Hybridge is second to none when it comes to understanding dental implant placement and restorations. In the past, dental implant manufacturing, restoration creation, and dental implant training were all completed at separate times and places. This advanced program combines all three of these important aspects together to certify dentists, ensuring safe, successful treatments.
When you choose to visit a dental practice backed by Hybridge technology and training, you can be sure that you'll be receiving dental care from highly trained professionals that can provide high-quality, long-lasting results.
If you're ready to move forward with replacing your teeth with dental implants in Jacksonville, it's time to reach out to an advanced office!
---
About Our Office
When you need advanced services or specialty dentistry, you're in the right place. Dr. Matthew Nawrocki and Dr. Richard Aguila work together to combine their years of training and specialty experience in both prosthodontics and periodontics to provide the best care for their patients. If you would like to speak to either of them, feel free to give our Jacksonville office a call!