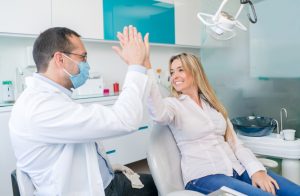 If you're looking for a dentist with a specific specialty—or not—you can get swamped with so much information on the internet that you can begin to feel defeated. Thankfully, your dentist in Jacksonville at Jacksonville Dental Specialists is here to define general/cosmetic dentists from dental specialists. Hopefully, after reading this article, you'll be one step closer to determining who you truly need to see during your next dental appointment.
What does a general/cosmetic dentist do?
When it comes to dentistry, technically every dentist is concerned with the aesthetics of their patient's smiles. That's why we combine general and cosmetic dentists in this heading. Every dentist is required to complete a certain amount of education to call themselves a dentist. During these years of extra schooling and training, they pick up skills to provide comprehensive services in their practices that not only keep smiles healthy (preventive care) but also improve the looks of smiles (cosmetic care). A general dentist usually provides these services:
Dental exams
Professional cleanings
Porcelain veneers
Teeth whitening
Dental crowns & bridges
What does a periodontist do?
Periodontists are dentists who specialize in the health of patient's soft tissues, bone disease, and the structures that hold your teeth in place. The notable thing about visiting Jacksonville Dental Specialists is that Dr. Aguila not only provides you the perspective of a general/preventive/cosmetic dentist, but he specializes in helping patients restore their optimal gum health. You may need to visit your periodontist in Jacksonville if you need:
Deep pocket cleanings
Bone grafting
Soft tissue removal
Root planing
Implant placement
Crown lengthening
Hard tissue recontouring
What does a prosthodontist do?
Healthy gums are the key to a healthy body. With more than half of America's adult population being affected by gum disease, it's important to have a prosthodontist in Jacksonville like Dr. Nawrocki available to serve your smile.  Prosthodontists also complete extended education to further develop his training in the structures of your mouth's structure and oral surgery.  You can receive these services from our prosthodontist:
Bone grafting
Soft tissue removal
Root planing
Implant placement
Hard tissue recontouring
Call Jacksonville Dental Specialists
Are you not sure which dental specialist you need to see? Or maybe you're not sure that you need a specialist at all. We can help you determine who is best to see when you choose to visit our practice. Even if you just need general preventive services, we can still help you. We're just equipped for if there is a dental problem in the future, we have specialists that can help you restore optimal dental health. Contact us today!