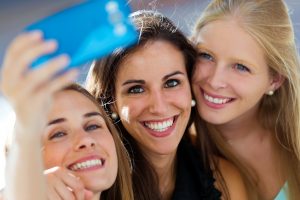 Have you ever seen someone with a sunken facial appearance? There could be a multitude of reasons for that, one of them being bone loss. If you want to keep your smile full and healthy, it's important to understand the dangers posed against your jawbone like periodontal disease and tooth loss. Your dentist in Jacksonville, either Dr. Nawrocki or Dr. Aguila, work to keep your mouth healthy and inform patients on ways to avoid dental issues like these. In the cases that your oral health may decline, we're here to help you rejuvenate your jawbone's health.
Why is it important to protect the health of your jawbone?
Do you know all that a healthy jawbone does for your smile? Your natural permanent teeth are embedded in your jawbone. When your jawbone is strong, it helps you to speak clearly and enjoy your favorite foods. This is also where blood flow and nutrients keep your teeth strong. Without a stable jawbone, your oral health can suffer dramatically.
Periodontal Disease Leads to Bone Loss
The word periodontal literally means "around the tooth." When periodontal disease in Jacksonville starts to affect the health of your jawbone, it's advanced from gingivitis to gum disease, and finally to its advanced form of gum disease (periodontal disease). This means that there is a severe gum infection that affects the tissues and bone that support your teeth. Once advanced gum disease has set in, there will be pockets that form around the teeth and fill with dental bacteria, infection and debris. This process eats away at the health of your jawbone and can lead to tooth loss. Although these affects are irreversible, they are arrestable—meaning, with the help of our prosthodontist in Jacksonville and periodontist, we can prevent further loss in these ways:
Advanced dental cleanings with scaling and root planing to remove and prevent dental buildup.
Soft tissue laser therapy to improve patient comfortability and accelerate the healing process.
Gum grafting to restore the full shape of your smile after advanced gum tissue recession.
Tooth Loss Also Negatively Affects Your Jawbone
The most common cause of jawbone deterioration is from missing teeth. When you leave a lost tooth unreplaced, you leave your jawbone susceptible to declining health. The strength of your jawbone is maintained through chewing and stimulation. If there are no teeth to do so, the bone will "resorb" (reabsorb) to the body. This can lead to additional tooth loss in surrounding teeth, causing a slippery slope to severe tooth loss. Luckily, our office is equipped with specialists that can help you replace those missing teeth in these ways:
Dental implants to replace teeth from root to crown that will stimulate your jawbone, keeping it healthy.
A Hybridge dental office that offers dental implant restorations in less time and for less cost.
Modern CT Conebeam Scanner to meticulously plan your dental implant procedure.
The ability to replace teeth for patients with any level of tooth loss—even a full arch!
Do you have gum disease or are you facing tooth loss?
It may be time to contact Jacksonville Dental Specialists. Our experts truly understand the importance of a healthy mouth—all the way from the jawbone to the tips of your teeth. Contact us today if you're experiencing dental issues and want to preserve the health of your jawbone.