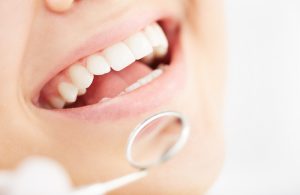 If we were to hold awards for today's options in tooth replacement — a contest between bridges, traditional dentures, and dental implants in Jacksonville — the latter would win across the board. In the categories of stability, aesthetics, and long-lasting investments, this comprehensive tooth replacement option just can't be beat.
But how do dental implants really work? It all comes down to a process known as osseointegration. That's a big word that has to do with how the bone tissue reacts to a titanium implant. Intrigued? Don't go anywhere, because this week, your dentist in Jacksonville shares the science behind implant dentistry.
What Is Osseointegration? Why Does It Matter?
Osseointegration is a big word that means bone (osseo) is able to integrate, or fuse together, with another material in your body — in this case, titanium. Dental implants that are placed into a healthy mouth have a 98% success rate of integrating with the jawbone, providing your new tooth replacement with the stability of a prosthetic root.
Osseointegration is the key to dental implants' success, and why they're recognized as the best option in tooth replacement currently available. It's at the foundation of every one of your options in implant dentistry, which we have outlined below.
Traditional Dental Implants
Traditional dental implants can support a single crown, a bridge, or a full denture. Each implant is surgically placed beneath the gum line, and over a period of four to six months, osseointegration takes place. You may wear a temporary tooth replacement during this time. Traditional dental implants require plenty of healthy bone structure to ensure the implants can anchor to the jawbone. If there is not enough healthy tissue present, your dentist may recommend a bone grafting procedure to add more volume to the area.
Mini Dental Implants
Just like the name suggests, mini dental implants are smaller versions of traditional implants. They are often used in spaces where there is not enough room for a larger post. Because they can be completed far more quickly than traditional implants, mini dental implants may be an excellent choice for older patients who do not wish to wait many months for their replacement teeth. Mini dental implants are also much smaller than the traditional alternative. Because they do not require as much healthy jawbone structure for successful anchoring, the need for preparatory bone grafting procedures can be eliminated altogether.
Hybridge Dental Implants
People who have complex tooth replacement needs may require a special approach for maximum success. At Jacksonville Dental Specialists, we offer Hybridge dental implants for any number of tooth replacement needs. This special approach replaces missing teeth more quickly and often more cost-effectively than traditional dental implants. The Hybridge approach can be used for single, multiple, or complete tooth replacement.
Questions? Talk to Us Today!
Are you interested in learning about your options in dental implants? Many adults are eligible candidates for this procedure — and we're always welcoming new patients into our friendly, state-of-the-art office. Request an appointment with your implant dentist in Jacksonville today!