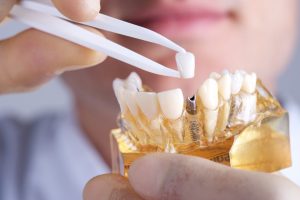 Want the maximum in tooth replacement? Dental implants have a remarkably high success rate — with procedures as much as 98% successful, by many estimates. They work by fusing together with your jawbone in the process known as osseointegration. If there's not enough healthy bone structure present, though, the crucial process may never occur. In cases where the jaw is not strong enough to support dental implants, your dentist in Jacksonville may recommend a bone grafting procedure.
Bone grafting can help people who would otherwise be ineligible for dental implants enjoy all the benefits of this comprehensive tooth replacement option. It may add several months to the overall treatment for dental implants, but patients agree it's worth the investment in time for a stable, secure tooth replacement.
Why Is Bone Grafting Necessary?
People may experience jawbone shrinkage for a number of reasons, the primary being tooth loss. Healthy bones need plenty of blood flow to thrive, and the teeth's roots provide this stimulation for the jaw. But when a tooth is missing, the body sends those important nutrients elsewhere, causing the jaw to slowly degenerate and change shape. People who have dealt with tooth loss for many months will usually need to undergo some amount of bone grafting.
Another common reason for a degenerating jaw is periodontal (gum) disease, which eats away at the healthy periodontal and bone tissue. Periodontitis should be treated before dental implants can be considered.
Sometimes, there simply isn't enough healthy bone structur, to begin with, or the bone that is present is too soft to support dental implants.
What Happens In a Bone Graft?
A bone graft adds more volume to the area where teeth have been lost to create a sturdy foundation for the proper anchoring of a dental implant in Jacksonville. To perform a bone graft, healthy bone tissue is taken from elsewhere in the body (the shin, hip, or the mouth) and placed in the deficient area. Other options for replacement bone tissue include from a cadaver, a cow, or artificial bone.
A sinus lift is a specific type of bone graft in which space is created in the rear upper jaw. Used for missing top molars, your dentist will open the sinus and add healthy bone to make more room for the dental implants.
What to Expect From a Bone Grafting Procedure
If your implant dentist in Jacksonville recommends a bone graft before you get dental implants, the treatment depends on the state of your jawbone. Sometimes the graft can be completed on the same day as the implants are placed. If significant structure has been lost, your jaw may have to heal after the bone graft is finished. You will return for the placement of dental implants after recovery is complete.
Questions? Talk to Us Today
If you have questions about how bone grafting works, or to discuss an upcoming procedure for dental implants in Jacksonville, please do not hesitate to get in touch with our office. Request an appointment at Jacksonville Dental Specialists today!