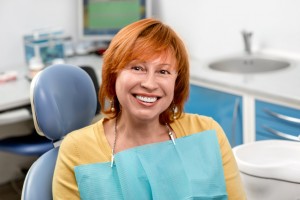 Dental implants need a sturdy foundation of healthy bone. If you need this comprehensive tooth replacement, your jawbone may require a little prep work first. The sinus lift is a common procedure completed in advance of dental implants — keep reading to find out when and why your dentist in Jacksonville may recommend a sinus lift.
What Is a Sinus Lift?
A sinus lift is oral surgery that is necessary when there is not enough bone structure to support dental implants that replace molars and premolars in the upper jaw. The procedure is performed by an oral surgeon or periodontist. In a sinus lift, healthy bone tissue is taken from a donor site and added in the area between the maxillary sinuses.
Why Is Sinus Lift Recommended?
Often, sinus lift is recommended due to bone loss in the sinus region. Healthy bones require stimulation to thrive, and the teeth's roots provide blood flow and nutrients for the jaw. When teeth are lost, the jawbone gradually shrinks. And because the back of the upper jaw naturally has less than that of the lower jaw, tooth loss in this area often results in inadequate structure for dental implants.
Periodontal disease can also cause bone loss that necessitates sinus lift — and, depending on anatomy, some people's sinuses are just too close to the upper jaw for the dental implants to be placed.
Procedure for Sinus Lift in Jacksonville
If you need a sinus lift, Dr. Nawrocki will take x-rays and use our CT cone beam scanner to get a complete image of your sinus and jaw. Using this information, he will put together a treatment plan for your sinus lift.
There are three options for bone grafting material. Healthy bone for a sinus lift can be taken from a donor site elsewhere in the body (in the mouth, the hip, or the tibia). Alternately, donor tissue may be harvested from a cadaver. And while it sounds strange, another effective option is healthy bone taken from a cow.
If the donor tissue is from elsewhere in the body, we remove it in the same procedure as the sinus lift. Once we have the healthy tissue, Dr. Nawrocki will cut the gum tissue where the upper molars are missing. A small space is opened in the bone, and the sinus is pushed away from the jaw. The healthy, new donor tissue is packed in the space where the sinus used to be.
In most cases, dental implants will be placed several months later, once the sinus has healed from the procedure.
Sinus Lift Recovery
After the procedure is complete, your doctor will send you home with specific postop instructions. You may experience swelling, discomfort, and minor bleeding in the days following the sinus lift. Do not blow your nose and try not to sneeze too forcefully — both could cause the bone graft to dislodge. Make sure to attend any follow-up appointments to allow your surgeon to check on your healing.
Questions About Sinus Lift?
If you have additional questions about preparation for dental implants in Jacksonville, please don't hesitate to get in touch with your trusted dentist. Request an appointment at Jacksonville Dental Specialists today.