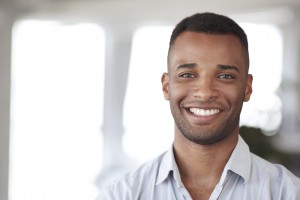 It's never too late to get the smile of your dreams. If you have one, two, or many imperfections affecting the appearance of your otherwise healthy front teeth, there is a wonderful solution in porcelain veneers in Jacksonville. They work by simply covering up the imperfections — easy enough, right? It's a long-lasting, beautiful solution for smiles like yours, and Dr. Matthew Nawrocki is pleased to offer veneers to patients of Jacksonville Dental Specialists!
What Do Porcelain Veneers Fix?
Porcelain veneers can correct any number of cosmetic imperfections affecting the teeth that show when you smile. From chips and cracks to stains, gaps, and other things that get in the way of your most confident grin, veneers provide a wonderful solution to a multitude of problems.
People who have the following issues may want to consider dental veneers.
Broken or chipped teeth

Slightly gapped or off-center teeth

Teeth that appear too short or pointy

Stained teeth that have not responded to teeth whitening

Oddly textured teeth

And other cosmetic issues…
Discuss your options in smile enhancement with your cosmetic dentist in Jacksonville. Note that teeth that are structurally damaged or weak would be better served by a sturdy dental crown. We can recommend a natural-looking all-ceramic restoration if that's the case.
How Are Veneers Applied?
To make room for your porcelain veneers, we will have to remove a small amount of tooth enamel from the surface of your front teeth. Without this crucial step, your veneers run the risk of looking bulky, or causing your lips to puff out.
Veneers are completed over the course of two visits to our office — during the first, we will put together a treatment plan and prepare your smile for the new veneers. Temporary veneers cover up your prepared teeth in the time between appointments. Once the new veneers have been crafted in our partner lab, you return to our office for their final placement and the first look at your brand new smile!
Are Porcelain Veneers Durable?
Some of life's most fragile things are porcelain — but your new porcelain veneers aren't the same as a dainty porcelain doll or your grandmother's treasured tea set. Dental porcelain closely resembles your natural tooth enamel, and it is just as strong. So while your veneers may not make it through a blow from a hammer or being dropped from a 20 storey building, you can expect them to withstand all the pressure your natural teeth would, anyway.
Veneers can last for many years with proper care. Take care of them with solid oral hygiene, including brushing, flossing, and visiting the dentist regularly for checkups and cleanings. We will continue to check in on the strength of your veneers in follow-up appointments to make sure they stay healthy and sturdy for years to come.
Let's Get Started Today!
Are you interested in transforming your smile with porcelain veneers? We thought you might be. Let's get started on your smile makeover! Schedule an appointment with your trusted dentist in Jacksonville today.