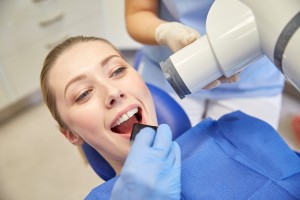 So you've heard something about dental implants, and now you want to know if you, too, can benefit from the comprehensive tooth replacement. We have good news: many patients who have suffered tooth loss are indeed eligible for the procedure. Learn more about dental implants in Jacksonville and whether or not they are the best solution for your smile, then schedule an appointment at Jacksonville Dental Specialists to get started!
Dental Implants: An Overview
Dental implants are a long-lasting replacement option that gives you back your missing tooth as well as its supportive root. Each dental implant provides unsurpassed stability for the prosthetic teeth that are affixed on top.
Dental implants are made up of three parts:
The dental implant itself, a titanium post that is surgically implanted beneath the gum line

The prosthetic crown, bridge, or denture that is affixed to the dental implant(s)

A connecting abutment that attaches the replacement tooth to the dental implant
Using the latest technology, your implant dentists at Jacksonville Dental Specialists perform the entire procedure for dental implants from the comfort of our office, with no need for outside referrals.
Candidates for Dental Implants
If your tooth loss is recent and you are in good oral and overall health, chances are excellent that you are eligible for replacement with dental implants. When you schedule an appointment with Dr. Nawrocki or Dr. Aguila, we will evaluate the state of your jawbone to determine whether or not it can support dental implants as it is. A bone augmentation procedure like bone grafting or sinus lift may be recommended to increase volume if significant degeneration has occurred. Sometimes, minor bone grafting can be performed on the same day as the dental implant placement for faster healing and a shorter time to your fully restored smile.
CBCT Scanner Improves Dental Implant Procedures
Placing dental implants requires extreme precision and an expert approach. At Jacksonville Dental Specialists, patients can count on us to make use of the latest technology to ensure we provide the very best dental implant care. Case in point — the cone beam CT scanner, which greatly aids in the treatment planning stage. It gives us a more in-depth look at your smile than a traditional x-ray or panorama can provide, but the machine is smaller than a traditional CT scan so we can capture the comprehensive images from the comfort of our office.
With the up close and personal look at your teeth and their supportive oral structures, we put together a treatment plan that helps us place your dental implants precisely where they need to be for maximum support in the jaw bone and a complete, confident smile.
Schedule an Appointment Today!
Are you in need of a high quality tooth replacement? The only way to know for sure whether or not you are a good candidate for dental implants is to request an appointment with your implant dentist at Jacksonville Dental Specialists. We provide comprehensive dental implant care from our state-of-the-art office!