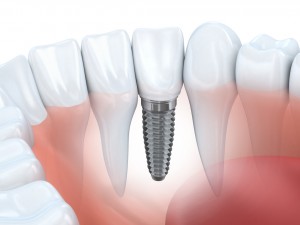 While enjoying some of the seafood that Florida is famous for, you bit down on a piece of clam shell that wasn't supposed to be in your pasta dish. This oversight from the chef caused you to lose a tooth – not what you were expecting for a romantic night out with your sweetheart. You need to get this addressed, but you don't want a bridge or dentures. What's the best alternative? A dental implant in Jacksonville, FL from Jacksonville Dental Specialists will not only look great, but will keep your smile healthier than other teeth replacement options. Find out everything you need to know about dental implants in this post.
What Are Dental Implants?
As your implant dentist in Jacksonville, FL, Dr. Nawrocki and Dr. Aguila explain the three parts that make up your beautiful artificial tooth:
Implant – The implant itself is a biocompatible titanium post that will be surgically placed in your jaw. This will become the secure foundation for the rest of your replacement tooth. You'll have oral surgery as the first step in the process, and you'll need about 3-6 months for the post to fuse with your jaw in a process called osseointegration. At that point, the other pieces can be added.
Abutment – This is the connecting piece between the implant and- the tooth-shaped "cap." Once the implant is strong enough, the abutment will then be affixed to the post.
Crown – This is the part of the replacement that looks like the tooth. The long-lasting dental crown will be secured to the abutment after that part is added, restoring your smile to its former glory. Since the crown is made of porcelain, it will match your natural teeth perfectly and blend right in with your existing teeth – making your smile beautiful again.
Why Are Dental Implants Better Than Dentures & Bridges?
There are many reasons why implants are the gold standard for replacement teeth, including:
Appearance – Implants look much more natural than dentures and bridges. The durable porcelain looks so authentic, the only person who'll know that you have a false tooth is you.
Increased Jawbone Strength – Dental implants actually augment the density of the jawbone, rather than causing it to wear away like dentures and bridges do.
Longevity – Dental implants last longer than traditional dentures and dental bridges.
Cost – Although other options for artificial teeth may be less expensive initially, dental implants actually save you money over the course of a lifetime, since you'll rarely need to replace them.
Improved Nutrition – Since your implant won't move, chewing will be easy. Apples, carrots, and even corn on the cob can be a part of your menu again.
Better Speech – You'll never have to worry about being understood when you talk with dental implants. They don't move around in your mouth like dentures, so you'll be able to speak clearly.
Your Smile Will Stay In Place – Who wants to take their smile out at night? You won't have to worry about the embarrassment of shifting dentures in your daily life, even when you kiss your sweetheart. And, you can say goodbye to messy dental adhesives, too.
Now that you know what dental implants are and that they're the best choice to give you a natural-looking smile, schedule your appointment with Jacksonville Dental Specialists today!