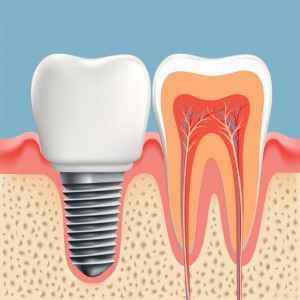 The SuperBowl has millions of viewers each year, and generally, people think of the quarterback as the determining factor in who wins the NFL championship. From Joe Montana to Brett Favre, from Johnny Unitas to Peyton Manning, viewers keep their eyes glued to the game because of these players. When it comes to dental care, most professionals view prosthodontists as the quarterback of a dental team. They lead general dentists, specialists, and other health professionals and create specific treatment plans to suit your oral care needs. If you're in need of a qualified prosthodontist in Jacksonville, FL, you should see Dr. Matthew Nawrocki at Jacksonville Dental Specialists – be treated by the John Elway of dental professionals.
What Is A Prosthodontist?
A Prosthodontist is an expert in the restoration and replacement of teeth. Their specialized training makes them key in perfecting your smile, both aesthetically and functionally and this area of expertise is one of the nine American Dental Association (ADA) recognized dental specialties.
While it's always great to look sharp with a beautiful smile, your teeth must also work properly to ensure the rest of your health stays up to par. Prosthodontists like Dr. Nawrocki are highly specialized dental professionals – they attend college for four years, dental school for another four years, and then receive an additional three years of specialized training in an ADA accredited graduate program. With this amount of education and experience, you should trust only trust a prosthodontist when considering replacement teeth.
How Can A Prosthodontist Help Me?
Restorative Dentistry – These dental specialists can help with many oral health circumstances you might face. Of course, replacement teeth, like dental implants, crowns, partial, or full dentures should always be handled by a prosthodontist. They understand not only the health repercussions of losing one's teeth (either from aging or an accident/injury) but also know how missing teeth can affect patients psychologically.
Complex Cases – Prosthodontists are specifically trained to take care of the most complex dental restorations. They have the skill and training on how to manage and effectively treat complex trauma to the face and jaw, as well as congenital conditions – like genetic defects to the face that can leave a patient's oral health compromised.
Picture Perfect Grins – On top of having prowess to address serious dental issues, prosthodontists also have an eye for making their patients look phenomenal. They use their aesthetic abilities to ensure that the people they treat come out of their offices healthier and with a smile so beautiful no one would ever guess it wasn't their natural teeth.
So, if you're looking for the right dentist in Jacksonville, FL, and need restorative or cosmetic dentistry, or have a complex case, the team at Jacksonville Dental Specialists will make sure you have a game-winning smile. Schedule your appointment today!