Many patients that hear about dental implants are immediately interested but often pause when they consider the cost. At Jacksonville Dental Specialists, we truly believe dental implants are both an effective tooth replacement solution and wise investment. Read on to learn about the factors that contribute to the cost of dental implants in Jacksonville and how implant treatment can actually end up saving you money in the long run.
Types of Dental Implants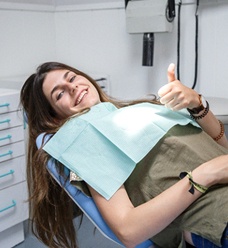 Implant treatment can often vary from patient to patient according to their unique needs. For example, some individuals only need to replace one missing tooth with a single implant, while others may wish to restore an entire row of teeth. The cost of your implant treatment will depend on the complexity of your case and how many implants are required to restore your smile.
There are three main types of dental implants:
Single Tooth Implant – Plug the gap in your smile with a single implant and custom dental crown.
Implant-Retained Bridge – Just one or two implants and a bridge can replace two or more consecutively missing teeth.
Implant-Retained Denture – A more secure alternative than traditional dentures, implant-retained dentures are anchored by 4 to 6 dental implants.
What Are the Stages of Dental Implant Treatment?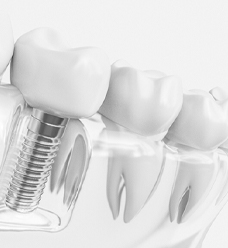 Dental implant treatment is typically completed over the course of several months. Each visit to our conveniently located office in Jacksonville is an important step of the overall process and contributes to the final treatment cost. Instead of paying for your new smile upfront, you will be able to pay for each procedure one at a time. This may include:
Preliminary treatments, such as gum disease therapy, extractions, sinus lift or bone grafts.
Initial consultation, during which one of our implant dentists in Jacksonville will examine your teeth and create a personalized treatment plan.
The implant placement surgery, which we can perform in-house thanks to our experienced dentists.
Placement of abutments, a connector piece that helps secure a crown, bridge or denture to an implant.
Design and placement of the final restoration.
Are Dental Implants in Jacksonville Worth the Investment?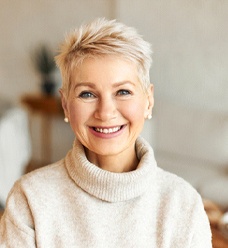 Although dental implants may cost more initially than other tooth replacement solutions, they are well worth the investment over the long term. First, no other dental restorations can match the stability, renewed chewing power and natural appearance of dental implants. In addition, dental implants can easily last for several decades – or possibly the rest of your life! – with proper care. In contrast, traditional dentures and bridges must be replaced every few years. For these reasons and more, dental implants are among the most reliable, popular and at times economical tooth replacement solutions available today.
Does Dental Insurance Cover Dental Implants?
Unfortunately, many dental insurance plans do not cover dental implants. However, you may be able to take advantage of your insurance benefits to reduce the costs of certain related treatments. For example, your insurance may cover an initial consultation with Dr. Nawrocki or Dr. Aguila. In addition, any preliminary treatments that must be completed before moving forward with dental implants, such as gum disease therapy, a sinus lift or a bone graft procedure, may also be covered.
At Jacksonville Dental Specialists, we firmly believe everyone deserves a full, beautiful smile. If you have financial concerns related to implant treatment, ask our staff about CareCredit and the Lending Club. We proudly partner with both of these dental financing organizations, which offer low- and no-interest payment plans to fit virtually every budget!